Specials...


Check back here often to view our current sale and special pricing promotions and events.
To book a session: call: 931-624-8003 or email- This e-mail address is being protected from spambots. You need JavaScript enabled to view it

*Please add me as a contact to ensure emails do not go into your junk or spam folder.*
Scroll down for details...


---
OCTOBER SPECIAL!!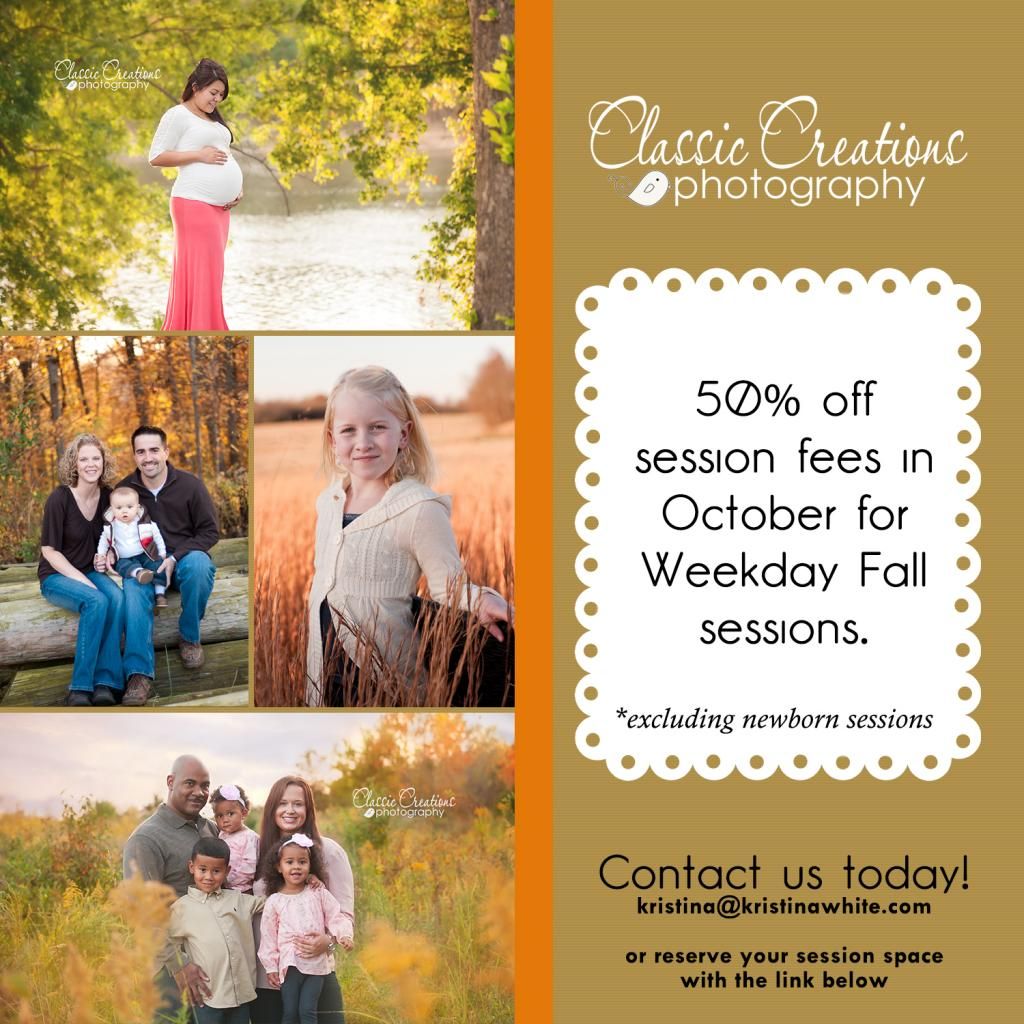 For the month of October, take $50 OFF of all WEEKDAY session fees for fall sessions!! Weekday (M-F) sessions are only $200 which includes a $150 print credit towards your package order.


*Good for sessions held Mon-Fri in the month of October. Sessions can be held mornings or afternoons or evenings.

Does not include newborn sessions.
Contact Kristina to book at This e-mail address is being protected from spambots. You need JavaScript enabled to view it
or reserve your spot here
---
Santa is Coming to the Studio!!
It's almost time! The holidays are coming ...and so is Santa for our very popular Santa Sessions!

Santa is coming to the studio Nov 8th and I am so excited for the sessions this year! We are stepping up our game and doing so many new things! Mrs Claus will be here as well to spend time with the kids. Your kids will love their Santa experience!



With the smell of cookies and Christmas while holiday music plays, Not only will your child get to visit with Santa and Mrs Claus but then after their special photo time they can enjoy some cookies and milk from our "Milk & Cookie Bar" and look through their goodie bag while you pick out you your holiday card design.

Not only that but also about a week or so before the session your child will receive a personal letter in the mail from Santa himself calling them by name and expressing how he can't wait too see him/her and take a picture with him/her!
These sessions book very quickly so reserve your spot soon to get first pick at time slots.

Reservation fee (session fee) is $50 and due at the time of booking. Print packages start at $65 and can be viewed HERE. Packs are purchased at the time of the session.
---
Fall is coming!!

It's that time again...time to start planning your fall pictures! WE are now booking our fall sessions. Fall sessions can book up quickly so don't wait too long.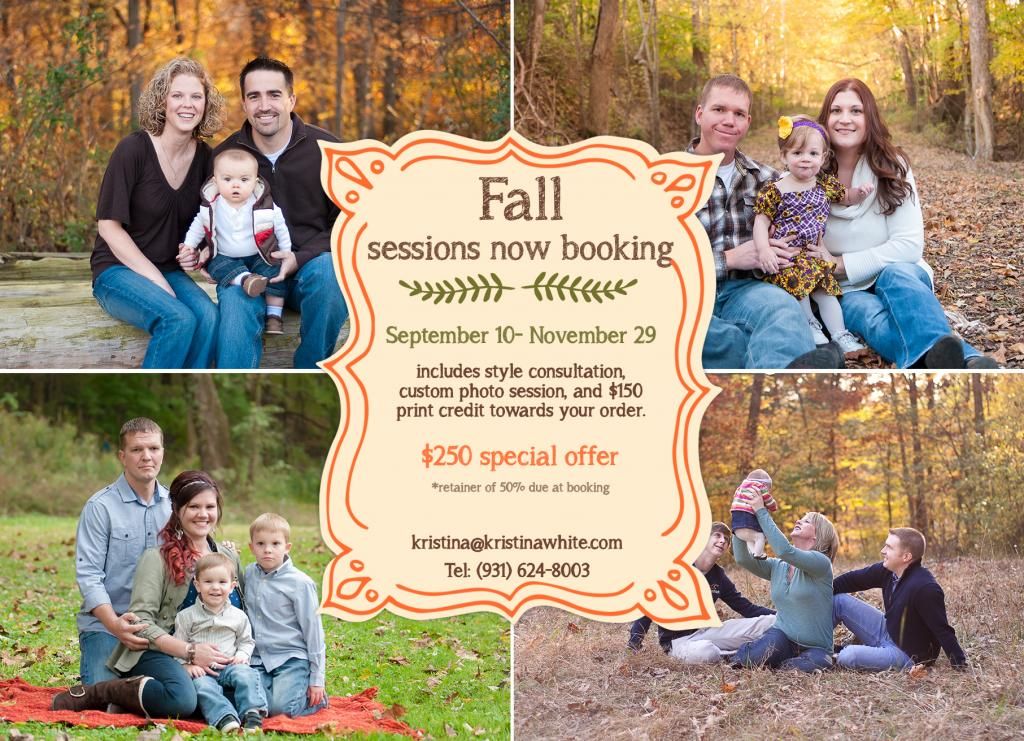 Fall sessions are $250 which includes your style consultation, custom photography session and $150 in print credit to use toward your order. A retainer of 50% is due at the time of booking and the remaining half is due at the time of the session

.
---
Special Fall Themes This Year!
This year we have two special days for fall themes. These are regular fall sessions but with something extra special or a special location. Keep reading to find out more...


On this day we will be using a special location, exclusive only to Classic Creations.
This beautiful location has grassy hills, beautiful fall trees and a gorgeous barn
to use as our backdrop to create some amazing fall portraits!




On this day only we will be bringing along our beautiful vintage and antique

chairs and a couch and any other furniture we can fit to create some

artistic and creative outdoor portraits for your family!
or email Kristina at
This e-mail address is being protected from spambots. You need JavaScript enabled to view it
---
Photography Classes!!


We are now offering photography classes for those that would like to learn how to take better pictures and how to use all those settings on your fancy SLR camera. Ever wondered what all those buttons were for? Want to improve your picture taking skills when photographing your kids in their everyday life? Well I am here to help.
What is included
*Approximately 2-3 hours of instruction  including
hands on learning time with real child models
*a manual of the course for later reference
How to use the camera settings as well as which settings are ideal in various situations
Principles of photography such as perspective, composition, the "rule of thirds" & more.
A general understanding of what aperture, shutter and ISO is.
How to capture great moments of our kids being kids and pictures that are meaningful, not just telling them to stop, sit down and smile.
...and finally
Classes will be limited to 5 people so I can give everyone more direct one on one attention. Classes are first come first serve.
More info on the blog: Click Here
---